Description
Sacred Sound Healing: Exploring the Hand Beaten Singing Bowl
Product Description:
Discover the Authentic Resonance of Hand Beaten Singing Bowls
This Hand-Beaten Singing Bowl is a stunningly beautiful and unique instrument that creates a soothing and calming sound. This bowl is handcrafted from high-quality, durable bronze alloy, and features a classic Tibetan design with a rich, golden hue. The bowl is hammered and hand beaten by Tibetan and Newari artisans of Nepal, who have been making singing bowls for generations to create a unique, one-of-a-kind sound that can be used for meditation, relaxation, and sound healing. The singing bowl produces a deep, resonant sound that can be used to bring balance and peace to your mind and body.
This singing bowl comes with a wooden striker and cushion, making it easy to play and enjoy the calming tones. The singing bowl is perfect for yoga and meditation, or just as a stunning decorative piece. It is a great way to add a subtle yet powerful sound to any space. It also makes a wonderful gift for any music lover or sound healing enthusiast.
Experience the calming and soothing tones of a Hand-Beaten Singing Bowl today!
100% satisfaction guarantee – You can be sure that all Singing Bowls have been carefully hand-inspected, tested and selected by Nepali Artisans for the best possible deep and smooth vibrations.
Why you should buy this Hand beaten singing bowls?
Authentic Resonance: Hand-beaten singing bowls are crafted with meticulous care, producing an authentic resonance that is rich, pure, and deeply resonating. Experience the true essence of this ancient instrument.
Unique Sound Quality: Each hand-beaten singing bowl has its own distinct sound, offering a unique and personal experience. Discover the enchanting tones that captivate the senses and transport you to a state of deep relaxation and inner peace.
Craftsmanship and Tradition: Hand-beaten singing bowls are crafted using traditional techniques passed down through generations. Appreciate the artistry and skill that goes into creating these exquisite instruments, adding a sense of heritage to your practice.
Meditative Journey: The soothing vibrations of hand-beaten singing bowls facilitate a meditative journey, helping to calm the mind, release stress, and enhance focus. Immerse yourself in the harmonies and find a deeper connection within.
Sound Healing Benefits: Hand-beaten singing bowls are used in sound healing practices, promoting holistic well-being and restoring balance in mind, body, and spirit. Harness the therapeutic power of sound vibrations for relaxation, stress reduction, and rejuvenation.
Mindfulness and Presence: Playing a hand-beaten singing bowl requires focused attention and mindfulness, allowing you to be fully present in the moment. Embrace mindfulness practices and cultivate a deeper sense of self-awareness and clarity.
Decorative Piece: Hand beaten singing bowls are not only functional but also visually appealing. Display these beautiful bowls as decorative pieces in your home or sacred space, adding a touch of elegance and tranquility to your surroundings.
Meaningful Gift: Share the gift of serenity and spiritual exploration with others by gifting them a hand-beaten singing bowl. It is a thoughtful and meaningful present that encourages self-care, relaxation, and personal growth.
Unlock the transformative power of hand-beaten singing bowls and embark on a journey of self-discovery, mindfulness, and healing. Explore the collection at Soulful Bazaar and experience the profound effects of these authentic and resonant instruments. Elevate your meditation practice and enhance your spiritual well-being with hand-beaten singing bowls.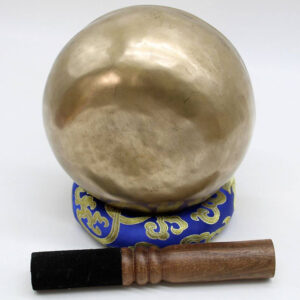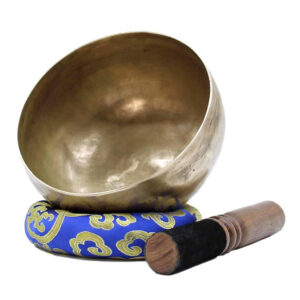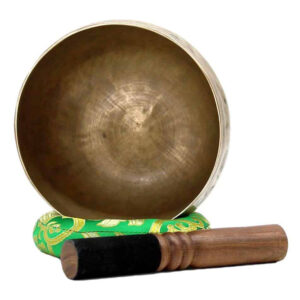 Here are some benefits of a Hand Beaten Singing Bowl:
Sacred Sound Healing: The resonant tones produced by the hand beaten bowl promote healing on physical, emotional, and spiritual levels.
Meditation Enhancement: The soothing vibrations of the bowl deepen meditation practice, aiding in relaxation, focus, and inner peace.
Stress Reduction: The calming sound and vibrations of the bowl help reduce stress, anxiety, and tension, promoting a sense of tranquility.
Chakra Balancing: The vibrations of the bowl can help balance and align the body's energy centers, supporting overall chakra harmony.
Mindfulness and Presence: The sound of the bowl serves as a tool for grounding and bringing awareness to the present moment.
Emotional Healing: Working with the singing bowl can assist in releasing emotional blockages, promoting emotional healing and balance.
Energy Cleansing: The vibrations of the bowl can help cleanse and purify the energy in a space, removing stagnant or negative energy.
Aura Cleansing: By gently playing the bowl around the body, one can cleanse and revitalize their aura, promoting energetic balance.
Focus and Concentration: The resonant tones of the bowl can aid in enhancing focus and concentration during tasks or study sessions.
Spiritual Connection: The traditional craftsmanship of the hand beaten bowl enhances the spiritual connection and invites a sense of reverence.
Please note that individual experiences may vary, and it's important to explore and connect with the Hand Beaten Singing Bowl in your own way for optimal benefits.